What Our Clients Say?
Simona Vavega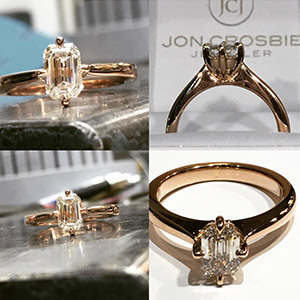 "I just want to say a big thank you to Sara and Jon from Jon Crosbie Jewellers. They helped me give my fiance the engagement ring of her dreams. With their expert knowledge and experience, it made what can be a very stressful process of choosing the right engagement ring, seamless and pain-free.

They worked with me closely to finalize the design and their craftsmanship and attention to detail, customer service is exceptional.

The ring and diamond they designed and delivered was absolutely superb and I couldn't be more happier.

They were an absolute pleasure to work with and if you want expert advice and to be looked after, then you should go and see them to sort out your jewelry needs.

My fiance absolutely loved her engagement ring and thanks to Jon Crosbie Jewellers, we couldn't be happier.

Good people, great service!

Simona

P.s Thanks again, guys! You absolutely smashed it and we love your work."
Suzi and Dom
"Dear Jon,

I wanted to let you know just how happy I am with the ring that you have created for us. It took my breath away when I first saw it as it was more beautiful than I had imagined. The whole process was made so seamlessly by you with your guidance and thoughtful suggestions. Even though I have been wearing the ring for a few weeks it still makes me stop to look and admire your amazing craftsmanship. I just love that you have placed a heart scroll in the middle underneath the diamond. It is truly beautiful and more than I could of hoped for. We can't wait to come back for the wedding bands.

Thank you so very much"
Blake
"Hi John, Might not remember me but I got an engagement ring and wedder custom made by you and Andrew and I just wanted to say thank you as they are absolutely brilliant and my new wife loves them! So many comments about the uniqueness of the design so thank you for being able to work with me and make it all come to life. Thanks to Andrew as well for his hard work.

All the best!"
Casey Riches
"Hi Jon and team,

I'd like to take a moment to thank you for creating the engagement ring of my dreams! I'm currently overseas so aren't able to personally visit your shop, however feel it's important to acknowledge the beautiful piece of jewellery you provided to represent our engagement. I've attached a photo, I only just received it but I've been told it was made earlier this year.

I feel there's something very personal and authentic about a privately owned jewellery business (and it's masterpieces). I would recommend JCJ to all of my family and friends, and am proud to use your sevices as my 'family jeweller'.

Thanks again."
Kalvin Bartlett
"In designing and creating an engagement ring for my partner, I wanted something unique, exquisite and of the highest possible quality – little did I know of the intricacies associated with selecting the right diamond. Fortunately, Jon and his team were immensely helpful in describing the significance of diamond quality and took the time to understand what I was seeking. Jon was then able to source the ideal diamond and had one of his expert jewellers handcraft a perfectly matched setting. Needless to say my fiancé is absolutely over the moon with her engagement ring! For customer service, product quality and the exclusivity of individually handcrafted items, Jon Crosbie Jewellers sets an exceptional benchmark."
Nathan & Gillian
Nathan: "Jon and his staff are wonderful. They designed and hand-made the perfect engagement ring for my wife. We were so pleased with their professionalism and quality of work, we naturally knew we had to get our wedding bands from JCJ.

My wife and I were so indecisive and had no idea what type of wedding bands we wanted. The staff at JCJ were so patient and gave us expert advice and guidance. We ended up with such beautiful wedding bands that made our special day that much more special."

Gillian: "I absolutely love my engagement and wedding rings. I constantly receive compliments on how beautiful they are and how well they match. I am so glad we went to JCJ for our rings. Once the wedding is over, all you have are your wedding bands as a reminder of that special day. I'm very happy to have such a beautiful reminder on my finger."
Wayne & Linda Tannum Sands
"As someone with a reputation for being hard to please I thought it was going to be difficult to find what I was looking for, however I was pleasantly surprised when we were introduced to Jon.

Instantly I was impressed with the quality of service, products and professionalism. The staff at Jon Crosbie Jeweller were extremely helpful and had the product knowledge to assist with any concerns/enquiries we have.

Our rings turned out better than I could have ever imagined - they definitely exceeded my expectations. Perfect rings for a perfect day! We shall take great pleasure in recommending JCJ to our friends and hope that his business goes from strength to strength."
Aaron Beake
"From start to finish, Jon delivered an excellent service for my wife and I. We were not entirely sure what we wanted although we knew that we wanted a custom-made gents ring that was unique, timeless and quality made and that was exactly what we got. We would highly recommend Jon and his team for any special items of jewellery."
Caroline Carter
"A massive and heartfelt thank you to you and your wonderful team for the efforts and love that went into making my pearl and sapphire ring! I love it and it is just beautiful and so nice to wear.

Again, thank you and best wishes."
Craig & Melissa
"At the time, I was looking for a jeweller to make my future wife's engagement ring, I decided to try JCJ, a small independently owned business . The shop is local to me and on entering, you are greeted warmly and made feel comfortable straight away. I found Jon could not do enough to help, offering suggestions and guidance with his expert advice. The end result was perfection, the craftmanship, design and quality could not have bettered.

We were so happy with the engagement ring, it was and still is, exactly what we had wished for. After satisfying our high expectations with the first ring we had Jon make our wedding rings as well.

Six years on, the rings are still perfect. Melissa and I have recommended JCJ to numerous friends and have no problem continuing to do so. When you find a good jeweller who loves his product as much as we do, you can't help going back, time and time again."
Eric & Lyn
"Over a number of years now we have called on Jon for both 'special occasion' gifts; and for our personal needs for watches and jewellery (mostly custom made by Jon's team – and for their maintenance from time to time.

Jon is always fair with his pricing, prompt with his delivery – and stands by the work performed at his shop.

Whether it is for a casual watch, pendant, pearls – or something very special – Jon is always willing to help and always delights.

We are impressed with Jon's new shop and wish him and the JCJ team well as they grow the business from this very modern and professional establishment."
Kim Coric
"Hi Jon,

I just wanted to share with you some photos of our wedding featuring the stunning engagement and wedding rings that you made for us.

I cannot thank you enough for the exceptional job you did of first working with my husband, Milan, on my engagement ring and then on the wedding band to match. I was not sure how my "I like this kind of ring, but without that and with this" expressions to him when he asked about what kind of ring I might like if we were to get engaged would translate, but with your help the ring turned out to be more beautiful than I could have imagined. I am so impressed with the workmanship of both rings. The wedding ring is a perfect fit and I am so grateful that you could get the detail into side of the band. I still find myself at times just staring at the rings on my finger in awe of their beauty (when I first got the engagement ring, I have to say that it was a bit of a safety hazard as I caught myself on one or two occasions gazing at it in the brilliance of the sunlight....while driving!).

Thank you also for the other work that you have done for us - Milan's wedding band and the impeccable restoration of a 50 plus year old ring that has much sentimental value. If anyone asks if I know a good jeweller, I have absolutely no hesitation in recommending you.

We will certainly use you for any of our custom jewellery needs in the future. Hopefully we will be requiring your services again soon for an eternity ring...

Thanks again Jon.
(Oh, and the new shop is just gorgeous!)"